Lazy Dog Restaurant & Bar
241 E Interstate 20 Hwy
Arlington TX 76018
Mon-Fri: 11am-midnight
Sat + Sun: 9am-midnight

Lazy Dog serves handcrafted American food and drink with seasonally-inspired ingredients. When you walk in, you get a small town vibe from the warm, caring service and the rustic social setting. It's a great place to get together with friends and family.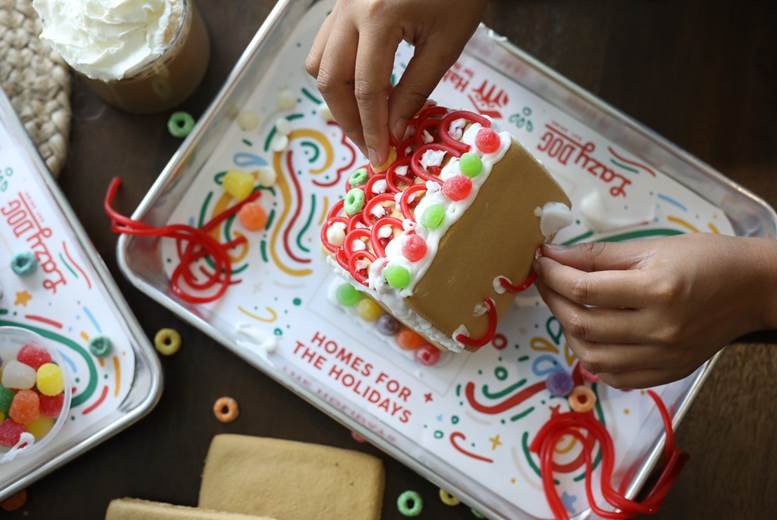 Lazy Dog Restaurant & Bar
Lazy Dog Corporate Holiday Events
November 12 - December 13
Looking for a place to host a fun holiday event? Book your party at Lazy Dog from November 12 to December 13. Choose from 2 prix-fixed menus, $30/pp or $40/pp for parties of 8 or more. Each guest in your party will receive a gingerbread house to build.
Every gingerbread house you build in our restaurant helps build a home for someone in your community. 100% of the net proceeds of each gingerbread house purchased goes to Habitat for Humanity.
Lazy Dog Restaurant & Bar
Lazy Dog Restaurant & Bar – 2019 Fall Menu!
This menu celebrates the changing season and features beautiful fall ingredients we have carefully sourced from farmers, ranchers and growers we love and respect.
Fall Menu Items:
Cowgirl Cheese Dip + Pretzels

Wild Boar Chili + Indigo Cornbread Fries
Shrimp + Grits
Lamb Shank Pot Pie
Nashville Hot Portobello
Maple Bacon Bar

Carrot Cake
Apple-Huckleberry Open Face Pie
Seasonal Cocktails:
Seasonal Pineapple-Coconut Infusion
Hibiscus Margarita
Smoked Maple Bacon Old Fashioned